Great job, wish aeternity become stronger.
The process of growing is hard. But the value will be found eventually.
We Chinese AE developers are lovely.I love them.
Aens.io updated at 11:42:34, May 23, 2020
Add a temporary password after logging in
Add multi-language substitution in Chinese and English
Add HTTPS certificates
aens.io 更新内容 2020年05月23日11:42:34
1.助记词登录后增加临时密码
2.增加中英文多语言替换
3.增加https 证书
That's great. That's powerful. The community needs friends like you!
I will attend the China community meeting at 8:00 p.m. on May 25, 2020. My favorite friends can join me in the room to discuss the development Suggestions of aeasy and aens
我将在 2020年05月25日 晚上8点 参加中国社区大会, 喜欢的朋友可以一起加入房间一起讨论关于 aeasy 和 aens 项目的发展建议
Thanks Harley!
Looking forward to your introduction, here is the link and welcome to join the second meeting!
@Markaeternity.chain Will the screen be recorded during the meeting? I regret that I may miss this online meeting.
Hi,
It will be recorded and once EN subtitle is added, I will share in the forum!
Btw, the Ep01 recording with En and Cn subtitles will be out next week , thanks for noticing !
Mark
@lydia Hi, sorry to bother you. I hope you can have a look at this project
Thank you @Baixin for your application. I can see that the community appreciate your contribution. I try to register but get captcha error.
Thank you for your use. I have seen your problem, but I have tested it and it can be registered normally. Would you like to try it again? Or try a different email and browser? @lydia
@Baixin Thanks for fixing, it works now. Your Applications looks gut. Can you please put it on the github?
It was already on github, back in April
This is the open source address for aeasy-io:
This is the open source address of aens.io:
There is a detailed description of both projects in the topic
AEasy.io and Aens.io Published to GitHub, And I am glad to migrate the repository to Æternity's github.
Updated aens.io
Currently, otc transactions are supported. Users can directly bid for the completed domain name, and users and users can directly conduct transactions. The whole transaction process is realized on the chain.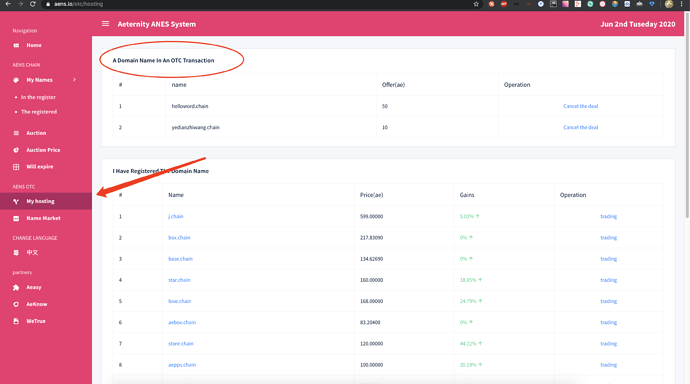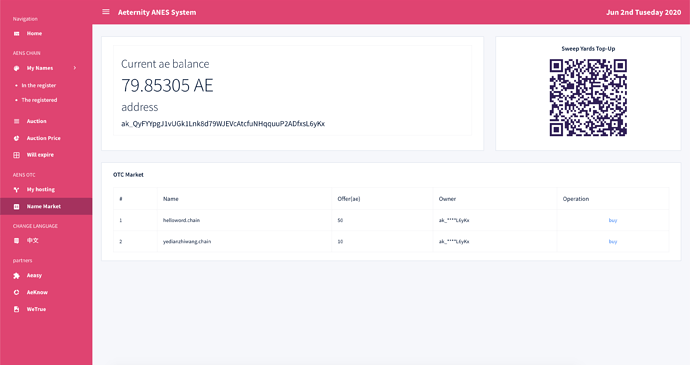 Can I trade aens here? How to do it, I have long expected this feature.
That is not allowed. In China, if I interact with RMB directly, I will go to prison…
@Baixin Your Application has been approved by the ACF Board. Thank you!
Report dated June 28, 2020
Modify Aeasy domain name registration verification amount
Modify problems that may fail in Aeasy transfer to increase the success rate
Add Aens OTC trading functions
Optimize the mnemonic login process of Aens
Increase the internationalization function of Aens
Record Aens Chinese version video tutorial
Write Aens mixed Chinese and English document tutorial
Thanks for your tutorial!~