Hœllo æveryone,
today we want to introduce you aenalytics.org which we have been working on quite some time. Originally our intention was to release it in December 2019 because there wasn't a good tool available to handle ÆNS interactions which we thought would be necessary for adoption.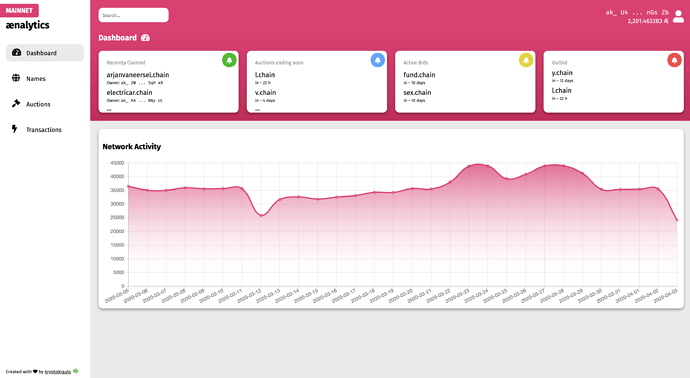 The focus of ænalytics still remains strongly on the naming system. But of course we want you to be able to handle and track all kinds of activities on the æternity blockchain. We also wanted to provide a user-focused interface. That's why you will be able to configure and track different addresses and connect to the base aepp.
in the near future we will also introduce support for wællet by implementing AEX-2 in case you prefer using the browser plugin
note:

for connecting to the base aepp you need to turn off shields if you are using brave and you need to allow popups (a page reload might be necessary)
Of course you will be able to use ænalytics for the testnet, just visit:
In the near future we will release some short videos and/or articles to explain what features ænalytics already provides and what you can expect in the next couple of weeks and months.
In any case we want you to be able to perform different actions using ænalytics. You will be able to claim, update and revoke names. You will also be able to transfer tokens to other accounts/names. This is our main priority. We want you to be able to interact with the æternity blockchain as smooth as possible!
Psst… updating names is already possible with active base aepp connection

at least you should be able to extend the name (we already observed a bug that given pointers aren't included in the transaction that will of course be fixed soon)
There might still be (other) bugs available and probably you miss some features. Please let us know if you face any problem or if you want a specific feature to be developed/integrated.
Get in touch with us if you have any questions or suggestions:
You can also directly ask us here in the forum. The person in charge of ænalytics is @icarus