ækiti SuperHeroLeague: A Look Beyond the Veil of the Blockchain and Cryptocurrencies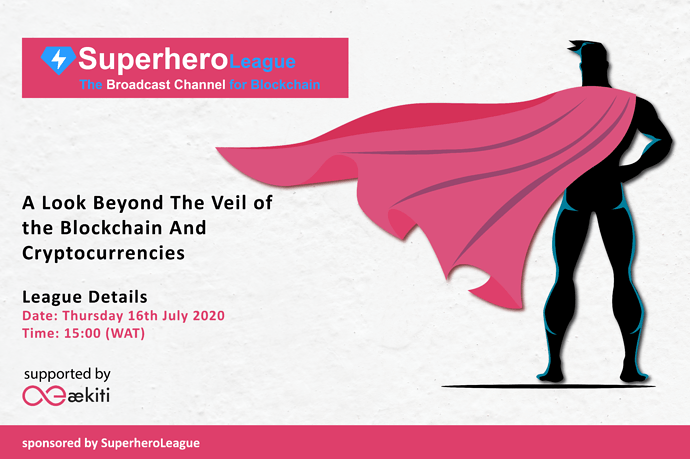 The Brief
The gathering of developers, entrepreneurs, writers, designers, and lots more from and beyond the ækiti community to learn about cryptocurrencies and æternity blockchain is the aim of this event. And a contest of 500+ AE reward is attached to the event for attendees to grab.
Date: Thursday, 16th July 2020
Time: 15:00 (WAT)
The Sessions
Cryptocurrencies: A Cause For Adoption
Superhero and its Use Cases
Sophia, A Better Smart Contract Programming Language
History of the æternity Development Suite
The Contest
This contest is aimed to reward good deeds to all attendees using the Superhero platform. The contest will span 48 hours before the event(Tuesday 14th July 2020) to 24hrs after the event(Friday 17th July 2020). Participating in the contest as an attendee is pretty easy provided the contest rules are strictly followed.
The Tags
Handles are:
Twitter:

@superhero_chain

, @AeternityEkiti
Facebook:

@legionofsuperheroes

, @aeternityekiti
LinkedIn:

@superherolegion

Instagram:

@superhero.com.official
The Rules
Participating in the contest simply means tipping any content on the web(Medium write-ups, GitHub repositories, YouTube videos, digital designs, a simple tweet/post, etc) using the Superhero platform. But also ensure the content creator is informed that a tip has been made so they can claim the tip.
The important rules are, you must:
join ækiti Telegram group,
make at least 1 social media post/tweet during the contest period using the Hashtags and Handles respectively,
include all Hashtags in a tip description.
The Reward
In this contest, 500AE or more will be awarded to all attendees that participate in this contest in the following manner:
Beginner Stage
This is the first stage where you get 10AE. You will be reimbursed for a newly created .chain name with 5AE and 5AE will also be given to you so you can tip content creators.
Advanced Stage
This stage is where you get a 10AE provided you have tipped at least 3 contents(using the hashtags) with a minimum of 8AE.
Winner Stage
This stage is where the winners of the contest are selected based on the total number of tips made and how relevant the tipped content is to the event theme. Below is the winners' reward:
1st Position gets 100AE
2nd Position gets 60AE
3rd Position gets 40AE
The AMA Session
Join ækiti lead and æmbassador, Emmanuel Joseph(JET), in our Ask Me Anything session on YouTube to learn more about the event and its contest on Monday 13th July 2020 by 15:00 (WAT).
---
Save the date: