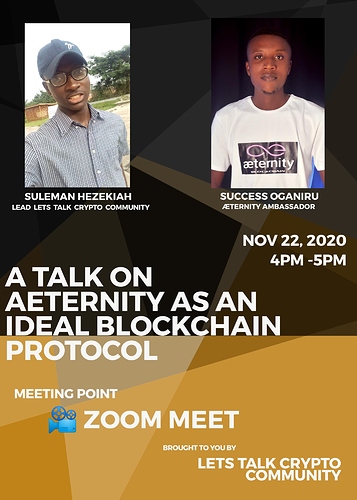 MEETUP
I will be guest at the Let's talk crypto community meetup on Sunday, we will be having a discussion on the topic tagged :
A talk on æternity as an ideal blockchain protocol
…
AGENDA
The event is made to promote æternity within the community and also talk about the features, products and use cases for æternity.
We will also be discussing about the ongoing human Defi hæck and the startup superhero event coming up this month locally.
…
TARGET GROUP
Let's talk crypto community, a community of blockchain enthusiast which are all active and are interested in discovering new and viable blockchain projects monthly.
…
LOCATION: Zoom Meet
TIME START: 4pm
TIME END: 5pm
Twitter post from host and lead
Tweet from @successoganiru.chain
Looking forward having a nice time and talking about æternity.