Blockchain Dashboard Bounty
We are announcing a bounty for visualization of live data coming from the æternity blockchain. In addition to continually improving the æternity Blockchain Explorer, we would like to see the æternity community involved in making dashboards.
Rules and Eligibility
This contest is open to anyone who has reached the age of maturity in their country of residence.
Teams are free to participate, but the award will be sent to a single AE address.
These submissions should be a fully-functioning web applications.
The submission should visualize data in the following categories: core (e.g., top block, transactions per day), currency stats, block stats (e.g., difficulty, key blocks mined), mining stats (e.g., transactions in the mempool, block reward), and æternity protocol (e.g., oracles queried, state channels opened).
The submissions should be open-source and posted on GitHub.
Submissions Deadline: December 23, 2018 | 11:59 PM CET
After the submission deadline has passed, members of the æternity team will evaluate all entries and select the winners.

The bounty amount is 3000 AE.

All participants must fill-in this short form in order to be eligible to participate:
https://goo.gl/forms/2zeuLgjRcyLDigKB3
Design Direction
We are looking for designs consistent with the æpps Styles guide (available at the link below). For your convenience, we have also included the fonts that we use.
https://drive.google.com/drive/u/1/folders/13DlwdF2QSPWFZVxQVI0tm5JGgAhbieQC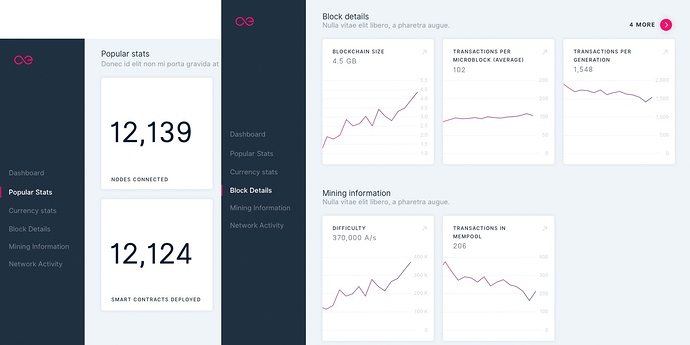 We have also prepared a reference sketch for the type of data and visuals we would like to see. We welcome all submissions and don't want to constrain your imagination in any way!
Questions?
If you have any questions, feel free to post them here!