With the increase of mining ponds and the upgrading of difficulty, how to choose a good and stable mining pond with guaranteed benefits is a difficult problem faced by many Bitcoin miners.
What is a Mining Pool?
Mining pools are groups of cooperating miners who agree to share block rewards in proportion to their contributed mining hash power.
While mining pools are desirable to the average miner as they smooth out rewards and make them more predictable, they unfortunately concentrate power to the mining pool's owner.
Miners can, however, choose to redirect their hashing power to a different mining pool at anytime.
Pool Concentration in China
It's important to note that most mining pools are in China When we choose the mine pool.Chinese mining pools control more than81% of the Bitcoin network's collective hashrate.
Here is our estimated mining hash power breakdown by country:
Among the many mines in China, we strongly recommend that new miners join UUPool, although it is not one of the largest mines. But he is one of the most reliable and trustworthy pools, especially for beginners.
UUPool is a block chain mine pool operation enterprise, belonging to Shenzhen shuangyou network technology co., ltd. At present, it ranks the top three in China, focusing on 11 virtual currencies such as AE, BEAM, ETC, DCR, BTM, BCD, DCR, etc. Mining with sub-accounts can also have MPC rewards, making the profits even higher.
In particular, the current new AE coin is highly respected by everyone.
Bitcoin Mining Pool Comparison
The handling fees of the mining pool is one of the important factors affecting the mining revenue. Now the calculation method of the income of different mining pools is really dazzling for the miners, and there are different mining modes such as PPS/PPS+/PPLNS.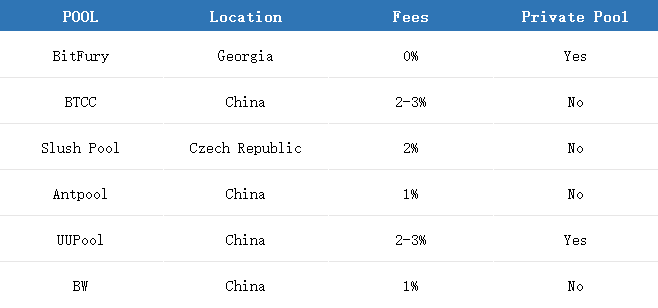 The comparison chart above is just a quick reference. The location of a pool does not matter all that much. Most of the pools have servers in every country so even if the mining pool is based in China, you could connect to a server in the US, for example.
Get a Bitcoin Wallet and Mining Software
Before you join a mining pool you will also need Bitcoin mining software and a Bitcoin wallet.
https://uupool.cn/course/17#wallet
How to join UUPool
UUPool ( https://uupool.cn/ )can be added free of charge and the process is simple.
First, you need to get Bitcoin mining hardware.
Then you need to download the mining software.
https://www.mineros.cn/download.html
If you need help deciding, I suggest you check our software guide.
Software Tutorial:
Users who have installed minerOS hard disk or U disk system
Online upgrade to version 1.6.6 and above in the management background, select AE currency for new template, koel-cukoo mining software, and apply the template to the host computer.
How to get AE
Main Net Wallet:
Ae General Edition Mining Software - Mineros Use Tutorial
https://support.mineros.cn/hc/zh-cn
Finally, register in https://uupool.cn/ to start using.