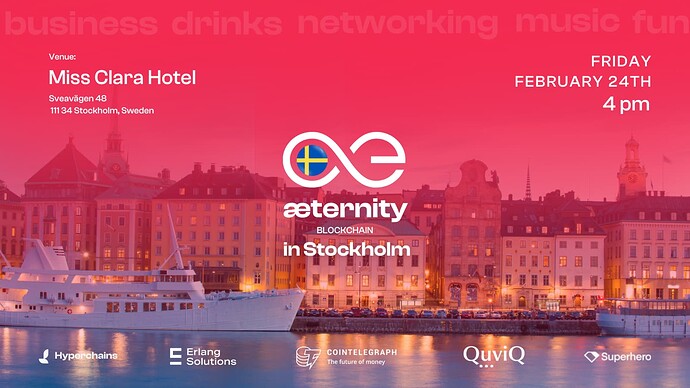 The Hyperchains: æternity, Bitcoin and Erlang Meetup in Stockholm on February 24th aims at bringing the communities of æternity, Bitcoin, and Erlang together to talk about Hyperchains and its æternity-based Erlang implementation.
Stockholm holds particular significance for the Erlang community and therefore also for the æternity blockchain. It was here that the programming language in which the æternity blockchain is coded — Erlang — was developed within Ericsson in 1986 and was released to the world as free and open-source software in 1998.
The event will feature a series of presentations and speeches from industry experts, including Hans Svensson, a functional languages development veteran and æternity blockchain Core Developer, discussing the upcoming Ceres protocol upgrade and æternity blockchain Founder Yanislav Malahov delivering a talk about Hyperchains – a new consensus mechanism offering a simple, cheap, secure, and infinitely scalable method of re-using the full potential of the æternity ecosystem.
Erlang Solutions Nordic Office Managing Director Erik Schön and Erlang Co-Creator and Senior Systems Architect at Erlang Solutions Robert Virding will also take part in the meetup. Erik and Robert will share their expert insights with the attendees on all aspects of Erlang's advantages and uses across multiple fields.
Moreover, one of the pillars of the Open Source Erlang community and former CTO of Erlang Solutions, Ulf Wiger will talk about ongoing improvements in the æternity node's storage management, and how these can be leveraged to achieve much shorter synchronization times, among other things. Ulf is a true authority on Erlang, having spent over 13 years as a Senior Software Architect with Ericsson and being the Chief Designer of the AXD 301 development — arguably the most complex system ever built in Erlang.
Former Bitcoin Core Developer, Consensus Systems Consultant, and OpenTimestamps Founder Peter Todd will also be present at the event, to share his insights about the latest Bitcoin protocol developments.
The Meetup will bring together members of the æternity, Bitcoin, and Erlang communities and provide a forum for learning and networking about the technology and potential of the æternity blockchain Hyperchains.
Sign up on Eventbrite to join the event in Stockholm: bit.ly/40T6e8A