Have you ever been "asking for a friend" when it comes to solving that doubt that is blocking your development process? Or struggling to find teammates to develop the idea you have in mind?
Then you'll be glad to hear about the Jæm sessions! Jæm sessions are a weekly spot in which devs get together with æternity development experts to solve doubts about æternity development in real-time within a dedicated Superhero meeting room.
So why are they called Jæm sessions if it seems to be mainly about live support? Well, coding is a highly creative expression as is music, and in the same way that musicians get together in jam sessions to have a nice time, learn from each other and collectively create music via improvisation, why not do the same with software development?
In the Jæm sessions not only technical support will be provided, but also feedback about project ideas, support for finding teammates to help develop your dreamed unicorn, and mentoring to advance with your early ideas, with the objective to come up with Bænds.
A Bænd is an early team emerging from these informal educational events which can be supported to get products to the market via a crowdfunding campaign, direct investment, or a grant depending on the particular case.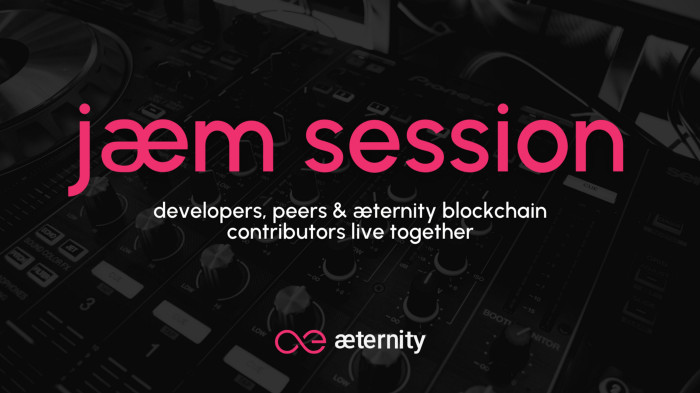 This new Jæm sessions program is an expression of the determination to support devs and entrepreneurs in their ventures to strengthen the æternity æcosystem.
In the beginning, Jæm Sessions will be mostly about solving doubts, however, opportunities to form Bænds will emerge from the ongoing interaction and cooperation of buidlers in the æ community.
According to the minimal data collection policy, you don't need to register to join a Jæm session but simply put in your agenda that every Wednesday at 16 CEST there will be people willing to support you on your æternity development path and just jump into the room when you are available.
The first Jæm session will happen next Wednesday, June 30th at 16 CEST at https://superhero.com/meet/jaemsession and will be happening every week at the same time, being the first blockchain protocol that provides real-time and free support to smart devs that have decided to build on æternity.
The æternity æcosystem team hopes that you will find this opportunity useful and interesting. We'll do our best to provide you with the best dev experience building on top of æternity.
Let's Jæm together!