UPDATE:
I closed the old poll. We had very few votes and results without any binding option. During side chats I got overwhelming feedback to increase initial prices. I lift them up a bit and created new poll. Here are bids and the poll (below is the closed one).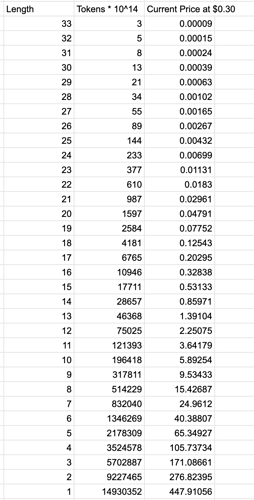 New Poll:
It's too cheap!
it's right on spot!
It's too expensive!
OLD POST BELOW =================================================
Here is my proposal for initial bids.
When you claim a name you must submit bid no smaller than initial bid configured in governance.
Counter bids need to be higher by at least 3-5% (up for discussion).
Winning bid will pay second to highest price (previous price).
Exception is the initial bid; the winner pays in full if that is a winning bid.
The claim transaction is extended with a Name Fee that is a bid value.
Tokens are locked until the auction is finished or until there is a counter bid.
When the auction bid expires, current winner becomes an owner of the name.
The winner pays second price and gets reimbursed for the fee paid.
Here is the proposal for initial bids. TLDR: The most expensive 1-letter init fee is $170, over 6-letters it's less than $10. Over 32 it's base fee of $0.00009.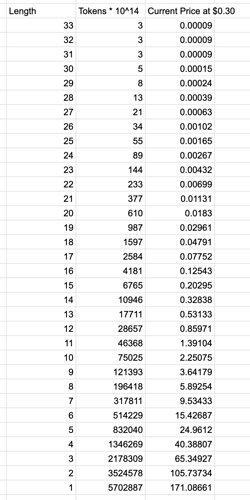 EDIT: closed poll
It's too cheap!
it's right on spot!
It's too expensive!
EDIT: old poll results