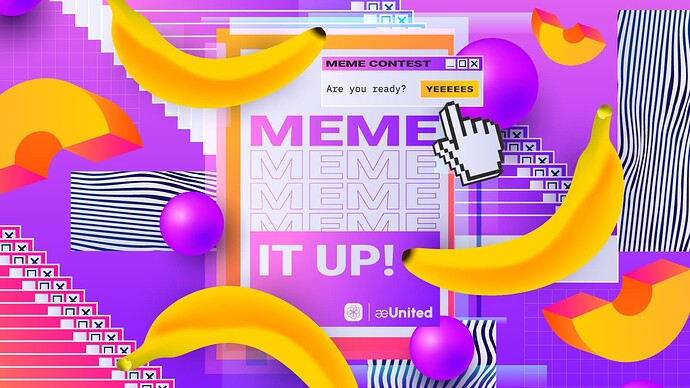 Have you ever wanted to create memes, but just didn't find the time? You're a passionate Meme Mæker, but you haven't really bothered making memes about anything crypto? Now's your chance to get started!





Create memes around the æternity project and its æcosystem and earn rewards in AE coins!
All Meme Mækers participating in the Contest are in contention if their content:
Is unique
Reaches the minimum rewards threshold
Complies with the guidelines
A reward in Æ coins corresponding to the meme' impressions and social activity at the end of each month can be claimed, as long as the necessary analytics are provided. Any social media platform that provides proficient analytics tools to verify views/impressions is allowed (e.g. Reddit, Twitter, LinkedIn, Instagram, Facebook, etc.), if you are not sure if the platform regarding the platform you'll upload your memes on, feel free to reach out to @erik.chain.
Meme mækers are required to claim their rewards through this form on the last day of each month at the latest. Claims can only include statistics generated within the current month. Late submissions disqualify for rewards.
Rewards & Boosts:
125 AE per 1000 views/impressions
50 AE per 20 Likes/Upvotes
50 AE per 20 Retweets/Shares
20 AE per 5 unique comments (max. 100 AE per meme)
Guidelines:
Each meme needs to mention at least ONE of the features of the æternity Blockchain protocol:
Erlang
Sophia,
FATE VM
State Channels,
Oracles
AENS
Generalized Accounts
Bitcoin-NG
Hyperchains
Generally, the content can be engaging and entertaining but is required to highlight the utility of the æternity blockchain.
Please refer to the Meme Contest Reward Form for more information regarding the Terms and Conditions of this Bounty.
If you have any further questions feel free to ask here in the comments or reach out to @erik.chain.
UPDATE: The minimum total reward to claim AE rewards for this contest has been reduced to 50 AE per month! Which means that it will be easier for you to participate even if you don't have a large following on social media


Here is one example to better understand how it works and really how quickly you can reach the requirements for receiving AE rewards:

Let's say you are posting this meme on reddit and sharing it on several sub-reddits where it is allowed to post memes:
In this case the meme had 426 views in one month, 10 upvotes and 1 comment. It didn't reach 1000 impressions per month, but that's not an issue, because it is just a way of calculating things.
So (426 / 1000) * 50 gives you 21.3 AE already just for the views. And we are talking about just one sub-reddit here. You could post it on several places and easily get more views.
For the upvotes, (10 / 20) * 50 gives you an extra 25 AE just for a few likes. Now multiply this across many sub-reddits or even other social media platforms like Twitter, LinkedIn, etc.
With this we are already close to the 50 AE minimum threshold to be able to receive the monthly reward, without much effort.
Now add the comments into it: (1 / 5) * 20 AE gives you 4 AE just for one unique comment.
Adding all together, 21.3 + 25 + 4 = 50.3 AE for just one meme on only one sub-reddit!
This is to show you that it is really easy to be able to receive rewards for your memes, and with just a little bit of effort you can multiply this and receive up to 2500 AE per month combined for all of your memes.
Again, please check out the Meme Contest Reward Form for the detailled Terms and Conditions of this Bounty and don't forget to claim at the end of each month!