Businesses can now use ReCheck's plug-and-play tools to integrate æternity technology into their products!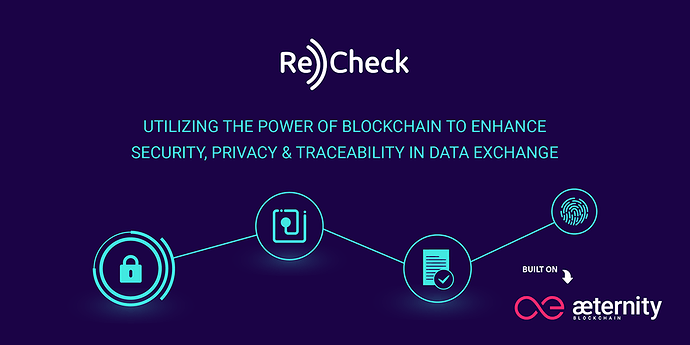 ReCheck announces its software tools for practical business purposes will help the ecosystem leverage æternity blockchain. They are now available for general audience based on a freemium model. The libraries are packaged in a Kit that works as a plug and play component. Startups, developers and small businesses can easily integrate blockchain layer and functionalities in their products - with a few lines of code.
For the last four years, ReCheck has developed practical solutions with tangible value to encourage innovation and business growth of startups and SMEs in Europe and the USA. The product-oriented company has already helped a variety of organisations to leverage decentralised technologies in their business – farmers, shoe retailers and merchandisers, legal companies, football clubs and intellectual property firms.
For the most important part, ReCheck is the technology enabler who provides easy-to-integrate software components to developers and startups who would like to future-proof their solutions and make them human-centered. These software tools act as a facilitator or a bridge to blockchain and allow small businesses and entrepreneurs to take advantage of the benefits and features related to decentralised technologies - secure digitalisation, data protection, private documents sharing, digital signature, traceability, tokenisation and user control over data.
The ReCheck Difference
As a startup-friendly company, ReCheck provides software tools and expertise based on a freemium model. Furthermore, the company relies on open source code approach and helps its partners solve fundamental challenges related to data management and protection with an all-in-one solution. Some of the characteristics of the kit are:
Privacy by design approach
Full traceability of all interactions with data
Data integrity through immutable evidence
Fast decisions through real time data synchronisation
Building trust via verifiable digital facts/proofs
Control over data and decentralised digital identities
United towards one goal
As æternity is dedicated to driving growth for its startups the entire blockchain ecosystem, ReCheck is happy to collaborate with like-minded peers who believe in the transformational power of decentralised technologies. ReCheck's Kit a perfect part of the arsenal for the modern startups and developers who are looking for fast, easy and cost-efficient tools in their quest for building amazing decentralised solutions.