Hi guys,
I'm translating a daepp from Solidity to Sophia and I ran into a problem when trying to use events,
so in solidity I have for example this withdraw event: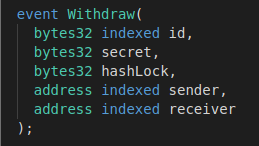 And when I try to convert it into my sophia contract like this:

It gives me an error that I have too many indexed fields. I understand why this is happening because
according to the documentation sophia accepts 0-3 index fields in an event.
My first question - Why is that? And how can I bypass this and continue building my daepp? Since I absolutely need more than 3 fields. Is there a workaround for this and how can I implement the event from solidity?
Help would be much appreciated.