Hello @Everyone , this is the last update of our stackexchange proposal:
We keep growing on committer but we still need to improve way more our reputation. That 23% means that we only have 23 users with 200+rep on other stackexchange, so please engage on other SE sites that you like and participate, we can achieve this.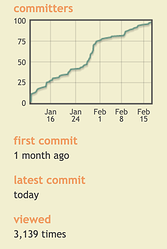 Why is important to commit?
Once we hit this stage, private beta will start and only those committed will have access to our own stackexchange site (until we get public beta). You can see it as becoming founders of æternity stackexchange site (cool huh?!). Everyone of the committee will be able (and asked) to make and answer 10 questions within 3 months to prove that we have a committed and interested community.
We have 2 more months to reach this.
That said, here is the link to commit and remember that it doesn't matter if you already followed you still need to commit.
I hope that all our @Ambassadors as well as @contributor are in process to commit.
And please we encourage you to promote this on your networks and between your colleagues.
Also don't forget to improve your reputation by following other SE sites and reaching 200 rep points.
There is a good list of sites where we can participate here .
Please join some sites and participate on SE so you can get enough rep. You will learn better how SE works and it's fun!
Thanks!