Over the course of the past six weeks, we have seen almost 150 different participants take a chance and try their luck in the Æternity Universe Two Hæckathon! It has been an impressive showing from keen developers all over the world.
Facing fierce competition, developers have submitted their best ideas, most innovative outputs, and creative applications of æternity blockchain-powered solutions.
In the end, 34 submissions have been made, and following thorough consideration by our team, 12 have made it into the final round! The final 12 submissions have been weighed, measured, compared, and contrasted by æternity Establishment's core team of top experts.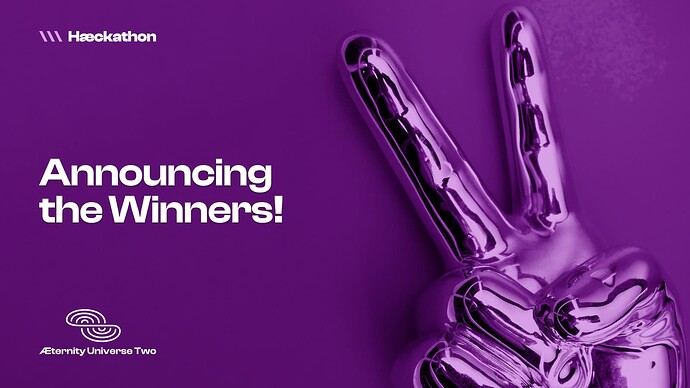 And the winners are …
As there were many great submissions it was a very tough decision for us, but in the end we can only have 3 winners, as well as the the winner of the Community Choice Award!
1st place — $15,000
The winner of the grand prize is GalacticWar developed by Dwij Patel and Harsh Gandhi.
GalacticWar mixes NFTs, Gaming, and DeFi. New users get the native fungible AEX-9 token "Aureus" and can use this token to buy game items (NFTs) to play the game. It was also interesting to see the integration of Superhero Wallet with their Unity game. The scope of this submission impressed us, you should definitely check it out!
2nd place — $8,000
The second place goes to Nuclearswap developed by Anton Pomieshchenko.
Nuclearswap currently provides a bridge between æternity AEX-9 tokens and ERC-20 tokens on Ethereum using Hash Time Locked Contracts (HTLC). The application provides a faucet for demo USDT tokens on æternity testnet which can then be swapped to USDT tokens on Ethereum testnet (Goerli).
3rd place — $5,000
The third winner in this hackathon is DeMarketly developed by Khoa Nguyen.
DeMarketly is a decentralized marketplace where you can buy and sell digital products with Æ coins. In addition to that sellers can create coupons and define how much discount they provide and how often they can be used.
Community Choice Award — $2,500
As announced in a recent blog article we also wanted to give the community a voice in honoring the hackathon projects.
We conducted a vote with special rules by making use of our Governance æpp where the community had to provide the address of their account used in the vote in the official thread in the forum.
The community has spoken and the winner of the Community Choice Award is defi æternity developed by Shubham Gupta.
defi æternity provides a collection of Sophia Smart Contracts that can be used in DeFi applications.
Voting Raffle — 5000 Æ
There is one more prize to be announced. We raffled 5000 Æ among all (valid) voters that participated in the vote for the Community Choice Award:
Congratulations to @xiao for winning the 5000 Æ coins!

Thanks to all participants!
Independent of the winners we encourage all readers to check out other submissions in the project gallery . We're really happy to have seen many great submissions from talented developers all over the globe.
We want to thank everybody for participating in this hackathon!
Continue Building!
We'd love to see all the projects continue building on their hackathon projects and ship a production ready product. If you plan to continue building please let us know and reach out to us either here on the Forum or on Discord.
What's next?
Buidl for Web3 Hackathon
You might not have noticed yet, but another Hackathon that æternity establishment is sponsoring is already hosted by Lumos Labs. Check out the Buidl for Web3 Hackathon, choose your favorite track and start building!

Tomorrow, 28.09.2022, 3:30 PM (CEST) , @marco.chain will give an intro about æternity, don't miss!