Binance remove AE/ETH, and more and more exchanges remove AE transactions. This is not a great start.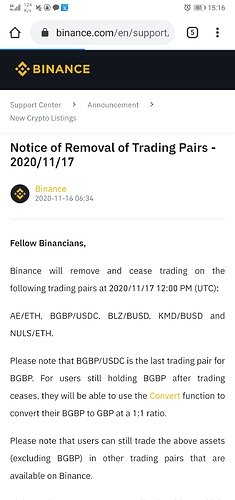 This is why I think the AE team must pay attention to the market
This is an unpleasant news

Hi!!
Of course this is not good news but it is a business decision from Binance (they have even delisted pairs of their own token ) about which we can't do much more that continue to work in the network unique advantages awareness and adoption of teams to build in it with actions such as the haeckathon , the improvements in Superhero, new teams working on aeternity, or our constant development work. Markets are quite irrationale and not always reflect the fundamentals of a project, ours are quite strong, and we are working on the market to realise them.
There is still a bunch of exchanges that list æternity and we are constantly working on adding new ones, and of course we will do everything on our hands to have that pair listed again on Binance together with the AE/BTC that is still operative, I guess ae community is closer to BTC than to ETH

as AE/ETH has a very small trading volume compared to AE/BTC , 9k vs 111k as of latest 24h stats.
As an example of new listings we have been recently listed by Probit in Korea (AE/KRW, AE/USDT, AE/ BTC)
As every blockchain project we also rely on our community to spread the advantages of ae network and the good news happening , but obviously sometimes there are bad news that if we face together will make us become stronger.
Completely available to solve any doubt you might have!
Really sad, seems AE soon will be ZERO!!
I have been lurking on the forum for a while now. This made me register for the first time

sad that it was something like this.
I'm trying to stay positive but @aelex i dont think you fully understand what this means . Binance is a beacon, if they delist other pairs other exchanges will follow as they see Binance as a signal of quality (however wrong it is). This can trigger an avalanche of delistings. I dont see you understand the gravity of the situation, rather than downplaying it and for me it doesn't sound healthy.
the sign isn't good, yes. but binance still has at least AE/BTC listed. so no reason to panic for now. although I'd liked to see AE/ETH being relisted
I'll try to remain positive and offer a suggestion instead of complaints. The pair is still active on binance maybe we ALL try to trade on that pair today to increase activity and convince Binance not to delist? 100 people trading 200-300$ might do the trick?
Alternatively do you have market makers active? They can prevent these kind of things easily
The same…and, true there's no reason to panic, especially 'cos, as @aelex said AE/ETH has a very small trading volume compared to AE/BTC , 9k vs 111k as of latest 24h stats.
I am not saying that is not important, just that we will continue our efforts for the market to recognize aeternity's fundamentals and have a market that better reflects them, then the news will be that new exchanges list aeternity not the opposite. I am also not quite sure that other exchanges will follow Binance path, I could argue the opposite with other exchanges taking the place that Binance is leaving. Still i always like to put things on perspective of numbers and if you look to the total AE/ETH trading on the different exchanges it represents less than 3.5% of the total trading volume, so it is normal that if people does not use that pair, exchanges delist it.
See the screenshot above - delisting is scheduled for tomorrow. But!! love your idea, that's what community should do by my opinion. Let's keep other pairs safe and increase 111K 24h trading volume of AE/BTC at least 30%





@marco.chain this doesnt help. Saying we lost our left arm but at least er have our right arm doesnt fix the problem (why we lost it in the first place). The 24hr volume on AE/BTC on Binance is 7.3 BTC, so 10x larger than ETH. But you say "everything is fine" and offering no way to prevent this happening to BTC/AE pair.
There needs to be a root cause analysis here, and a mitigation strategy. I'm looking at BTC/AE pair on coingecko and it says "Strong Sell"

I didn't say everything is fine. I said as long AE is still listed on binance I don't see a big reason to panic. but I need to admit that I recognize this as a sign that we need to get more attention to AE in the general public.
to do this I see 3 possibilities right now:
promote, advertise and onboard new users to Superhero
develop cool showcases and promote them
develop real use cases and promote them
talking about price and start trading the pair (which everybody should want to hold long term) doesn't solve the issue!
edit:
I forgot to mention the HumanDeFi hæckathon (!) … spread the word and get more users building on AE to introduce them to all the cool features it provides!!! (maybe we will get 2. and/or 3. covered through the hackathon, who knows?)
And! The community support is needed! Engage, support, use, believe, trust is what we can do if we want AE to be on top. Furthermore, we can not forget that cryptocurrency markets and exchanges are extremely young compared to institutions like the NASDAQ and NYSE - so their standards for listing/delisting are not uniform across the industry.
From what i know by supporting projects from 2017 is that community engagement and social proof is taking into account when evaluating tokens listed on exchange. That's why @marco.chain proposal of potential possibilities are so right.
Ok at least we have some comprehension now.
Your proposals are long term and longshots, also somewhat misguided. My proposals would be a bit more concrete :
Start incentivizing people to trade more (buy) ae somehow. Can be without money incentives. Idk badges, NFT drops - ae protector, t-shirts, badges on telegram, whatever

Analyze other pairs on top exchanges (i'm seeing Houbi AE/ETH pair at similar volumes as Binance, same thing is with AE/BTC (30k and 40k) , gateio is even worse (6k) and some others. They are gonna get delisted too if it continues like this. That's a fact. protect the important ones with a market maker or a liquidity shield program and things will start to recover.

The team is missing in action, i haven't seen anyone from the high ranks for a while now on telegram or twitter, especially not the core team. Post some videos, reassure people, show some strength and confidence and things will turn around i'm sure.
Defi hackaton is a great step for sure. That's an amazing thing first in a LONG while that gave me some confidence, i joined for the initial session but there was like 12 people there. Put some resources behind the marketing. I'm not a dev guy, if i was i would jump with both feet.
@LiuShao @aelex Sorry, I am not a big expert in this topic but have to ask your opinion.
Is it possible to prepare official letter for Binance where AE foundation effort, the current development plan, DeFi's related activities an the all our potential could be explained?
As last resort, of course. To describe measures which AE could provide to fix situation within market. Maybe communication already done, than it could be nice (for us) to know what Binance thinks about.