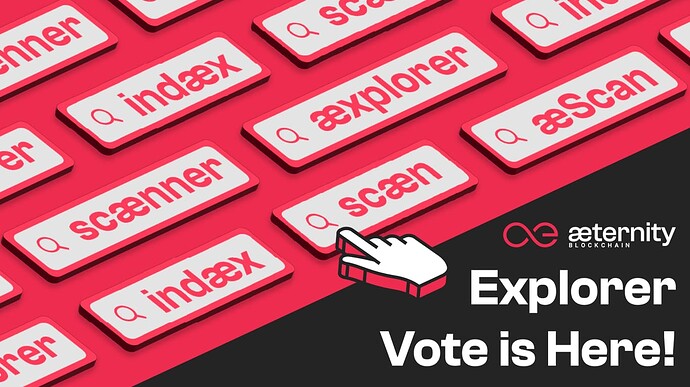 Dear æternity community,
We are very happy to be reaching out to all of you for your input on a crucial step in our middleware rollout - the name of our explorer.
The MVP of the new explorer is almost ready to be published and while we're finalizing everything on this end – we're looking to you, our community, to help us with one of the most important forward-facing aspects — the name.
We wish to give all of you a voice in the matter and to have the new explorer reflect the ideas, opinions, and thoughts of all of you.
The voting will take place by using our Governance Æpp as well as Superhero (Poll #106) and will last for seven days until December 15th, 2022, starting today. Click here to cast your vote.
Currently, the name contenders are:
indæx / indÆx
scæn / scÆn
scænner / scÆnner
æScan / Æscan
æternity explorer
æxplorer
The new explorer will make all protocol features easily accessible and understandable to all. As soon as a name is chosen, an MVP will be rolled out and we will make sure to reach out to you all again for comments, feedback, and inputs.
For further details as to how voting works, please see How Superhero Voting Works!