Hi guys,
I was trying to understand concept of state channel in a little deeper way and suddenly this came into my mind. Here is thread of what I have understood so far.
Is it possible to transact with having internet connection.
Imagine a small remote village in India, where the internet connection is very weak. I tried giving it a thought, and I came up with following protocol (hypothesis).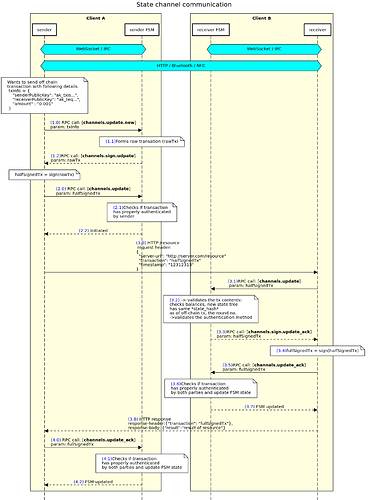 Points to be noted here:
First I decoupled the FSM module from the Ae Node and kept it on the client side
I removed the noise protocol for FSM to FSM communication
Sender will request sender FSM to form a transaction (1.0)
Sender signs it and update its FSM (2.0)
Sender sends the halfSignedtx to receiever via HTTP (if internet is there) or Bluetooth or NFC offline (3.0)
Receiver signs the message and updated its FSM
Receiver finally responds to sender with fullSignedTx (3.8)
Sender updates its FSM
Now my question is, if I have to make a simple poc for this protocol, will it be even possible to do? I am willing to fork the aenode and understand its code base.