With the introduction of the new community collaboration program, æUnited, it might be a good time to look back on the past three years of the very successful and fruitful æmbassador program — the precursor to the new and improved æUnited. It's time to put some of the most active and successful æternity ambassadors into the spotlight and let them tell us about their experience improving and expanding the æcosystem and how they learned and benefited from the process. The æcosystem would not be what it is today without their continuous support to new-comers and developers, as well as their unique and valuable contributions.
The next paragraphs feature excerpts of our conversations with the æmbassadors, passionate supporters and innovators of æternity technology. You will find out more about who they are, what's their experience within the æcosystem, and with the global and decentralized æ technology.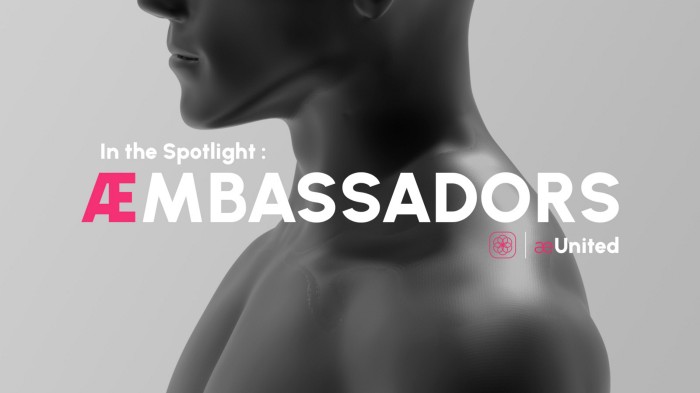 Ladies first, and what a special lady we have to present to you: Gyan Lakshmi, (@gyan0890) also known as Gyan J.I. is the proud creator of several important contributions.
Gyan is 31, based in Bangalore, India. In her free time, she loves to binge watch Netflix or bake interesting stuff. Currently working as a Blockchain Architect and Blockchain Consultant with several projects, her passion for blockchain started back in 2016.
"I came across æternity when a friend of mine told me about this chain, which is quite fascinating''. She attended a few Sophia workshops and was quite excited to contribute to the community. So are we, Gyan!


As her favorite contribution Gyan highlights "the Hackathon where I won a grant to build an NFT Marketplace for charity. It is a cause close to my heart and I am proud that I could solve a problem using a technology I love.''
She believes an open mind to understand and adapt to new technologies and a willingness to explore new things are essential when building blockchain applications.
Juan Carlos Delpino S. (@jcdelpino) from Caracas, Venezuela is a 51-year old Lead æmbassador and entrepreneur, contributing from the very start. Back in 2017, fully focused on mining and learning trading techniques, Juan Carlos came across the æternity blockchain contribution campaign, "I read the white paper and got hooked.'' Soon after, he saw the opportunity to become an æmbassador and applied right away.
Juan Carlos is also a co-founder of ASONACRIP (National Association of Cryptocurrencies) helping people understand and adopt blockchain technology and crypto in general. Thus, when he said "it strikes me kind of awkward that other blockchain projects have gained more turf offering much less advantages'' we have to agree, and this is exactly where a platform like æUnited comes in, to boost the adoption of æternity.
Emmanuel Joseph (JET) is a 23-years old techie coming from Nigeria, contributing and supporting æcommunity by working on developer documentation and tutorials. By profession, he is a web developer, "in love with blockchain technology and community building'' , as he explains.
Unlike previous æmbassadors who were early blockchain adopters supporting æternity from the ICO stage, Emmanuel first met the team — then got excited. As he said, back in early 2019 he attended his first blockchain event "that happened to be an æternity event hosted by Barineka Maagbo in Lagos. Since then I have been interested in blockchain, crypto, and decentralized technologies.''
Emmanuel strongly believes that programming skills are the most useful when it comes to contributing to an open-source decentralized blockchain, and then marketing and content creating skills. Why, and how — stay tuned for the rest of the interview below.
"You don't have to be good to start … you just have to start to be good!" ― Joe Sabah
Start to be good… is exactly what Marco Walz (@marco.chain), 32-years old æcommunity member did! Coming from Stuttgart, Germany, Marco joined the æcosystem back in 2017 when he started following the project closely… "and I still contribute as much as I can'' .
He's not purely an æmbassador

This year, after 3+ years of continuous individual contributions, Marco officially joined the æternity team, to lead and work on Dev Tools, creating more user-friendly tools and supporting æcommunity members building on the blockchain. He's fully focused on "empowering some motivated people in the community that can help æternity to show the world how great this technology really is.''
Before we move on with this successful story, on both personal and industry level, a few words about Mr Walz. Before officially joining the team, Marco worked as an IT consultant and contractor, mainly in the area of self-sovereign identities (SSI) and non-fungible tokens (NFTs). In his spare time, besides learning and researching the crypto ecosystem, "I am playing table tennis and spending time with friends and family.''
How and why Marco contributes, what has changed from the moment he became a part of the team, and what advice he can provide — read after we introduce a few more amazing young professionals who made this æternity journey so special.
Seems like Venezuela is very active in the æcommunity! Besides Juan Carlos, the amazing Ivan Leon (@ivanubikalo.chain), is from the Venezuela, too!
As a speaker, educator and consultant (personal finances, Blockchain usage and crypto basics & adoption), Ivan came across crypto first, than the blockchain technology. "I was looking for a better way to receive international payments back in 2016–2017'' , he explains. "I found æternity because a good friend recommended it, I've studied, and I saw an amazing project with huge potential''.
It is always good to get advice from someone who's been around for so long, as Mr Leon. He shares with us that "a solid vision and goals, needs good developers, excellent marketers, excellent speakers and good community with friendly community guides and human understanding'' in order to succeed.
Asked what he would highlight and what he feels most proud of in his contributions to the æcosystem, Ivan highlights: "æmbassador educational program has changed many families in several countries *just teaching them basic information about finance, tech and crypto. We change lives, a powerful thing'', Ivan explains. "æternity already has amazing projects, good dæpps, they need to be shown to the world'' , he adds, together with "please study its tech and understand It, in order to teach others and get a real outreach''.
This community would not be as powerful without you, Ivan! Thank you for all the efforts and contributions, and hope to see you active in the open-source collaboration program æUnited, as well!
We're proud to present Guillermo Prado Obando (@Guillermo.chain), æmbassador from Bogotá, Colombia, a system engineer, father and husband. Guillermo first got involved with æternity blockchain in May 2017.
Even though Mr Obando organized and hosted many æcosystem events & meetups, he highlights his favorite - æternity Universe in Prague 2019 . Besides educational activities, Guillermo also contributed "with two amazing guys in the hackathon, and, of course, we were the winners ''. Why wouldn't you with all the knowledge and experience, dear æmbassador.
In the following interview, learn what Mr Obando finds as the most important skills for newcomers, as well as what æternity blockchain should work on next.
From Montreal, Canada we have Justin Kat (@justin), excited about writing, reviewing, and testing tutorials for smart contract development on a blockchain 3.0 platform, Justin's suggests to "always be ready to do a lot of testing and don't give up when you find a bug or something that is unclear''.
Additionally, Justin explains, "check out all the tools and documentation that are already widely available. There are many ways to contribute, so find which areas have strong synergy with your skills ''.
Finally, we have Arjan van Eersel (@zkvonsnarkenstein.chain), a business consultant and software developer originally form the Netherlands, currently living in Lithuania.
He was working in the corporate services sector and helping entrepreneurs get started in their markets. "When blockchain technology came, I quickly understood what its potential could be for the corporate services sector and how business processes can become so much simpler with this technology, as well as the new business models that are possible with this technology. Thus I entered blockchain via the world of enterprise."
Asked what is the contribution he's most proud of Arjan explains that at the moment he's working on the NFT standard for æternity. "This is a very interesting challenge and an honor to work on. On one side it has to be close to the existing NFT standard on the market, on the other side it should use the options æternity offers for better and more efficient implementation. It's not easy to find a balance."
77 æmbassadors from 35 countries, 446 æternity blockchain contributions in the last 3 years. However, this is not the end, on the contrary, this is a continuation, and in a sense, a beginning of something very new and better than ever before — æUnited.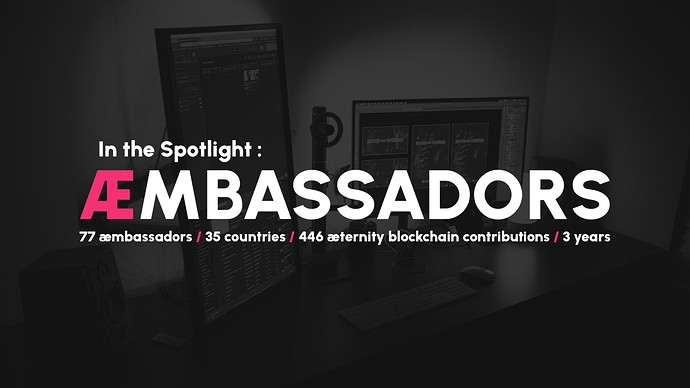 Now it's time to present some of the questions our prolific æmbassador were asked, as well as their answers.
What do you think is the most important next improvement or application to the æternity blockchain?
Gyan: " Having been with the æternity ecosystem for some time, I believe that one of the most important things to build is a lot of tutorials which exhibit how to build an end to end product using æternity technology. The SDK docs can be improvised to make it more user friendly. There should be more focus on education and awareness in the ecosystem.''
Emmanuel: "More marketing of advantages to get people to develop on the blockchain which can't happen if the token price is not encouraging.''
Arjan: "Of course NFT support, but that's already in progress."
Juan Carlos : "Before adding new improvements to æternity blockchain we should focus on letting the world know what we already have accomplished because for some reason developers and users are overlooking the advantages that æternity offers.''
Marco: "To empower developers with good templates, documentations and tools. There is still lots of room for improvement in that area. We have an absolutely great technical foundation and an incredible efficient virtual machine (FATE) with a strongly typed and secure programming language Sophia which has been developed by world-class developers and is being improved continuously. Few things I am excited to see hopefully in the near future that address these problems are: 1 — Devmode of the node ("Chainsimulator") that allows developers to build and test their smart contracts way more efficient; 2 — Language Server Protocol (LSP) for Sophia that can be integrated in various editors to provide e.g. auto-complete and go-to functionality; 3 — Contract inheritance & polymorphism for Sophia; 4 — A wallet that can maintain State Channel interactions''
Asked to offer some advice to anyone looking to join æUnited and start contributing to the network, here's what our æmbassadors said:
Arjan: "Look at your experience and talents. Start from that. Blockchain is just as much about economics and business as it is about technology. So we need all kinds of people and you'll see that there are many people with different backgrounds, experience and knowledge in the æternity community and that we can learn a lot from each other. "
Emmanuel: "Don't look for quantity, but quality when trying to achieve a goal. It's better to have just 2 people that can go with you till the end than 100 that don't even know what you are doing.''
Gyan: " For those wanting to contribute to the network, now is a great chance to join the æUnited team. æternity is still in its early stages of stardom, so you have a great opportunity to learn and grow in the æcosystem. Definitely attend the workshops by the team, they are super amazing.''
Guillermo: "All people with a real interest in blockchain, especially top-notch blockchain projects are welcome. I think it is a good idea to start learning about æternity basics and always visit the official forum. ''
Marco: ''Get in touch with the team and the community in the forum, on discord or wherever you like. Ask how you can help or maybe even provide some ideas that we can discuss publicly. Everybody that wants to help growing the æcosystem is welcome!''
"Start by doing what's necessary, then do what's possible, and suddenly… you are doing the impossible." — Francis of Assisi
You have the opportunity to get involved too!
No matter your level of knowledge, background and experience, interest and motivation is all that is needed. Join a new generation of open source blockchain contributors with the æUnited.

To get in touch with these amazing people, ask them to share opinions or help you solve some of your blockers, join the Forum , or join our weekly conversation — Jæm sessions.
Read the full article on the æternity blog: https://blog.aeternity.com/in-the-spotlight-æmbassadors-2b30aee554c0