We're pleased to present, to some of us already well-known æcommunity member — Jeevanjot Singh who, for the last couple of years, has supported æternity blockchain's open-source technology with innovative solutions, but also attended hackathons, events, and represented the æcosystem in the best possible light.
@genievot works with different technologies. His resume includes full-stack development, smart contract development, devops & AI library. His main focus is bridging the gap between legacy & newer technologies. Thus, as he said, for more than 8 years he has been contributing to new solutions, creating software, games, apps, videos. as well as developing in the blockchain space for almost 3 years. He's been one of the most active contributors in the new æUnited contributor program.
Regarding his contribution to æ open source tech, Jeevanjot highlights that "the supportive community, low transaction fees, faster transaction approvals, and the well-developed programming language, are key features" that motivated him to choose æternity blockchain as a protocol for his masterpiece — Money Over Mail Protocol (MOMP).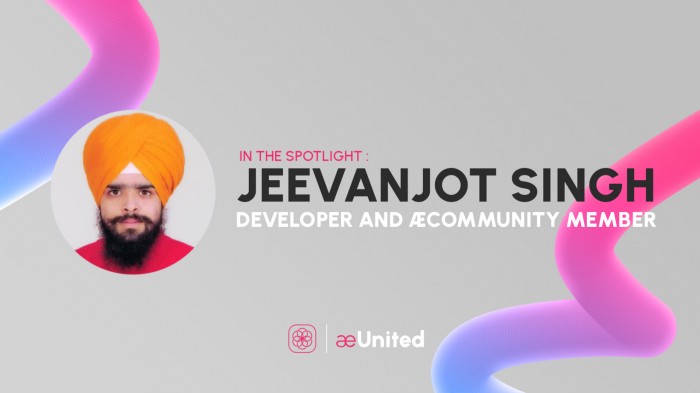 In this Spotlight, we want to introduce more about Jeevanjot to our community — what is his motivation behind building MOMP, when & why exactly he had become a contributor to the æternity blockchain, and what are his plans for the future.
What was your first contact with æternity like?
It was when I was looking for oracle systems for my DApps that I looked into the æternity's ecosystem and decided to develop my DApps on æternity. The experience was good, especially the community support was good, which became the key part for me to also make my projects in the æcosystem.
What is MOMP? What was your motivation to build it?
My motivation started with "I want to send cryptocurrency that is locked by an email and can only be accessed by the specific email without needing the wallet in the first place" leading me further to MOMP development.
Simply put, MOMP or Money Over Mail Protocol is a semi-trustless and fully decentralized protocol to send cryptocurrency assets on top of emails with emails being the sole medium currently to maximize the cryptocurrency adoption to non-wallet holders.
What is your favorite feature/use case of the æternity blockchain & what would you like to see improved?
I like æternity's low transaction fee. It is a productive aspect for the developers as well as the users. Regarding the improvements — I would like to see more development tools & improvements in current ones built around æternity like vscode/atom extension with syntax highlight, autocomplete methods & local node integration, UI form of aecli-js, etc.
What does the future hold for you? What updates should we keep an eye on?
With my current focus on filling gaps between legacy technologies and newer technologies, most of my developments will be based on the applications which are widely used for now & can be replaced with the same experience on newer technology.
Interview with our dear æCommunity Member & æUnited Contributor Jeevanjot Singh:
Jeevanjot's major achievements
Jeevanjot's æternity æcosystem contribution portfolio is so rich, we can only highlight some of the most important projects in this article.
Oracles 2.0
While the æternity protocol has had on-chain oracles available since launch, Jeevanjot's Oracle 2.0 project has brought automated oracle capabilities to the next level, which helps all developers in æcosystem to make their æpps better, more optimized and efficient. More details on the Oracle 2.0 can be found here.
Basic NFT
In December of 2020, Jeevanjot introduced the Basic NFT Template to the æcommunity. Details of this project can be found here.
Money Over Mail Protocol (MOMP)
As mentioned already in the interview, one of Jeevanjot's most important contributions is the MOMP. It allows users to transfer cryptocurrency on top of blockchain to email addresses. It doesn't require the receiver to have a wallet. More details on MOMP can be found here.
Decentralized Insurance on æternity
As a submission for the Human DeFi Hæckaton organized by æternity in November and December of 2020, Jeevanjot created this project to provide an opportunity for æternity users to make society safer and better by helping each other. For details, check out the link.
Node.js backend for the AE Token Migration æpp
Recently, Jeevanjot completed a bounty for the Token Migration æpp which was written in Go and had several issues for users trying to migrate their AE tokens to the æternity mainnet. He has rewritten the backend of the æpp which now works perfectly and allows users to transfer their tokens without issue. More on the bounty can be found here.
We would like to use this opportunity to thank @genievot for his hard work and innovative solutions, as well as for his continuous contributions to the æcommunity, and the blockchain. As one of the community leaders with so much accomplished through the æUnited contribution program, and as founder of Money Over Mail Protocol and Oracles 2.0, with incredible knowledge and development skills — the future is bright for Jeevanjot, and we will be following his career with great interest!
Read the complete article on the æternity blog: https://blog.aeternity.com/in-the-spotlight-jeevanjot-singh-fbcb332614c4