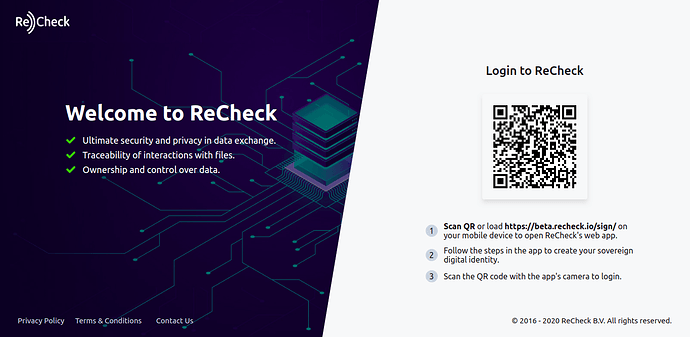 ReCheck is happy to announce the beta version of the data-sharing solution for businesses is now live. The online tool features novel interface and improved user experience. All transactions executed through the service will be recorded on the æternity blockchain and digital proofs can be verified through the æternity blockchain explorer.
Built with Privacy by Design Approach
In order to use the online tool, users need to first create their blockchain digital identity through the ReCheck web app on their smartphone's browser (soon available with native mobile apps for Android and iOS). It takes less than a minute to create your decentralised digital identity that is saved on your smartphone.
The blockchain identities are required for uploading, reading, and sharing files.
Currently, the solution supports all kinds of formats, as long as the size of the file does not exceed 10 MB. Functionalities such as "search" and "categories" allow easy organization of the records. ALL files are uploaded encrypted and only the owner of the item can decrypt and read it.
Communication is bulletproof, as data exchange is reinforced through end-to-end encryption. Stakeholders can send a particular piece of data, without revealing irrelevant to the transactionor personal information. The data can be decrypted and accessed ONLY by the blockchain identity of the recipient through their private key.
Privacy by design and Immutable Digital Proofs
The data-sharing tool has been developed with zero-knowledge policy, which means that nobody can read your data, even ReCheck. Unlike most cloud-based solutions that use server-side encryption, ReCheck's online tool offers superior protection, as the files you upload will be encrypted in your browser or the device you use before they are uploaded and stored on the online service.
Furthermore, a fingerprint (hash) and timestamp are generated as digital evidence for each executed transaction. Events for interactions with data such as upload, open, and share are signed and recorded in the ledger. The latter can be later verified by the participants in the transaction.
Does this sound good to you? You can try the service in the closed beta testing!Follow these 5 steps:
Go to the login page https://beta.recheck.io/
Open https://beta.recheck.io/sign/ on the browser of your mobile device to open ReCheck's web app.
Follow the steps to create a digital identity on your smartphone.
Scan the QR code on the login page with the camera in your web app.
Register some data on æternity blockchain, share it, and sign it.
Any feedback after testing and ideas for cooperation will be much appreciated.